 Mosquito Pest Control in Phoenix, Arizona
Mosquito Activity in our Area
Even in relatively dry states like Arizona, irrigation systems and surrounding lakes, as well as stagnant puddles, ponds, and pools create breeding grounds for mosquitoes.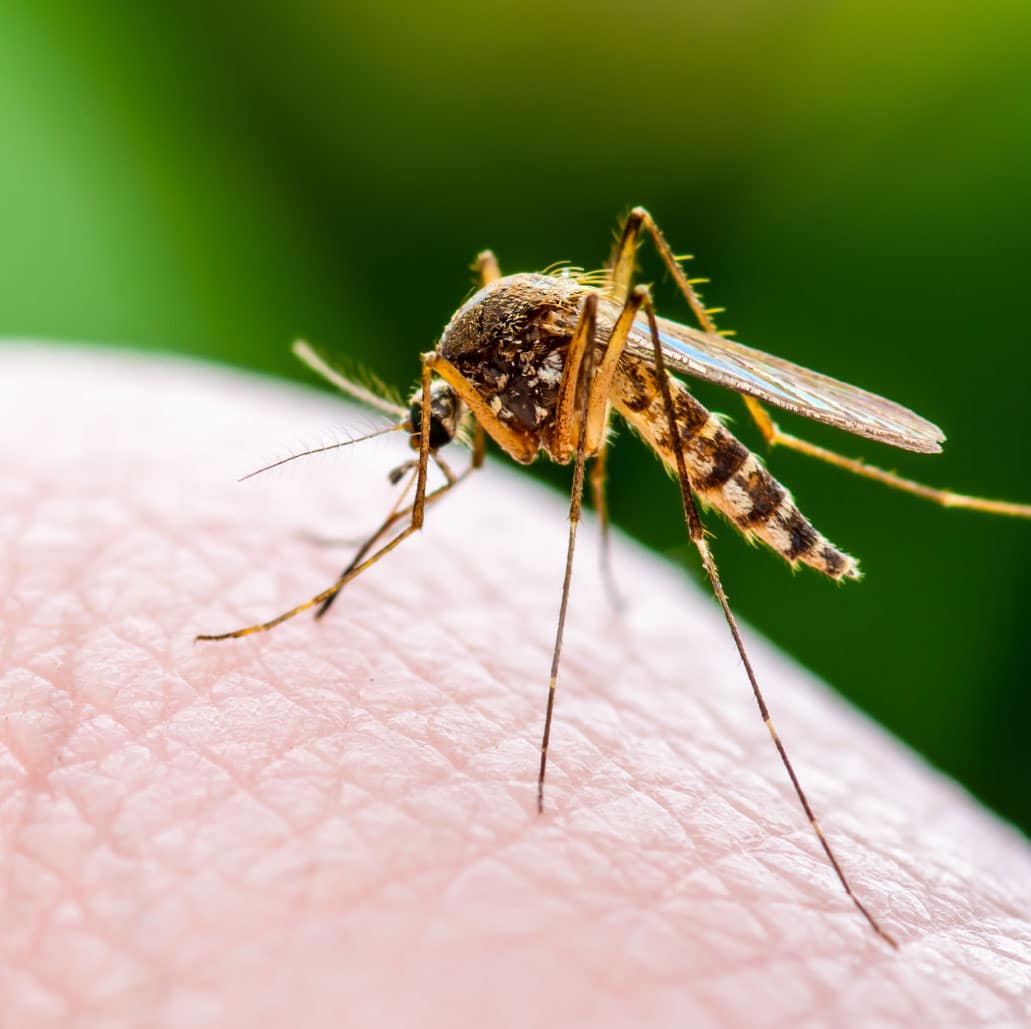 Common Mosquitos in AZ
Of the 176 species of mosquitoes in the United States, the following are found in Arizona:
Asian Tiger Mosquito
Western Encephalitis Mosquito
Southern House Mosquito
Dark Rice Field Mosquito
Yellow Fever Mosquito
Western Malaria Mosquito
Inland Floodwater Mosquito
Are Mosquitoes Harmful?
Most of us are familiar with the annoying itch caused by a mosquito bite. But in some cases, these bites are responsible for spreading deadly diseases, such as the West Nile virus, the Zika virus, malaria, and St. Louis Encephalitis. That's all the more reason to keep these little pests at bay.
What's Attracting Mosquitoes Around Your Home?
Female mosquitoes lay their eggs in stagnant water. Anything with even a small amount of standing water like tires, buckets, and birdbaths, provides the right breeding habitat for mosquitoes.
Mosquitoes seek shelter wherever they can find it. Yard debris makes a good hiding spot for them. They rest underneath piles of leaves and grass clippings, and in standing grass and shrubs.
Water features and irrigation leaks are a mosquito's dream. Not only do they provide standing water, but they provide a place where mosquitoes can lay their eggs and larvae can develop.
Ways to Fight the Scourge of Mosquitoes
Dump all standing water and prevent it from pooling again by keeping garbage cans tightly sealed, unclogging gutters, and other measures.
Maintain pools and water features.
Repair dripping outdoor faucets or irrigation leaks.
Keep grasses cut and shrubs trimmed.
Clear debris, especially wet vegetation.
DIY Mosquito Control
Sitting water is a hotspot for mosquito breeding sites. If you can locate the water source attracting the mosquitoes, the first step is to disturb it by dumping the water out or draining it. If the site is an enclosed space like a flower pot, you can fill the holes with sand or gravel to keep future infestations from occurring.
For sites where eliminating the water source isn't an option, you can use an approved insecticide such as Methoprene or Bacillus thuringiensis israeliensis(Bti). Backyard foggers can also offer temporary protection from mosquitoes and work great before outdoor events. Residual insecticide sprays stay on surfaces for up to a month and can reach infestations in thicker foliage.
You can also find store-bought remedies like mosquito traps that use a scent-based attractant, bug zappers, and attract-and-kill sprays that use a mixture of sugar water and toxicant. Another more controversial option is installing a timed backyard mister system to release insecticide mist or fog throughout the yard. The use of this kind of mosquito control can harm the natural ecosystem and beneficial bugs.
We Can Help You!
Of course, Insectek can be part of the solution, too. We're your source for effective and environmentally friendly pest control. And as the top-rated pest control company in the Phoenix area, we offer solutions tailored to fit your needs and keep your home free of all kinds of pests, including mosquitoes. Contact us for more information.
Serving Our Community and Beyond
In many parts of the world, not everyone can afford pest control services. That's why we at Insectek donate a portion of our profits to Malaria No More (MNM), a nonprofit organization that aims to protect people from potentially deadly malaria.
About Us
Insectek is a locally owned and operated pest control company, serving the Metropolitan Phoenix, Scottsdale, Glendale, Mesa, Tempe, Chandler, and Gilbert areas. With two decades of combined experience, we know a thing or two about the rodents and insects you fear creeping into your home.
Frequently Asked Questions
How do I know what kind of pest control service I need?

At Insectek we employ the highest moral and ethical standards for treatments, and therefore we do not recommend anything our customers do not need. Instead we focus on understanding the pest activity and pest tolerance of a client before making a recommendation. As your locally owned, operated and vested pest control exterminator experts, we believe earning your business based on what you need, and not what we want to try and sell you instead, will keep your loyalty, trust and business for years to come. Try out our recommendation app below to find out what kind of service is best for you.
Why do I still see bugs here and there when I have an exterminator service?

Insects have been roaming the earth for millions of years and therefore have a tremendous advantage on us humans. They have mastered the art of staying alive under harsh conditions, and are very adept at making sure their offspring do too. The pest control products that are available to professionals, like the Phoenix pest control exterminators at Insectek, have to balance the important task of eliminating as many pests as possible—while at the same time making sure they are safe for you, your family and of course your pets. Therefore, the exterminator team at Insectek Pest Solutions utilizes the best and safest products available, but in most cases cannot treat every single pest with one pass of the wand.
Are the products your exterminator uses safe for my family and pets?

The products on the market our exterminator technicians use in your home undergo rigorous research, development and testing first at the manufacturer level, then at the Environmental Protection Agency (EPA), and finally, in many cases through the State Department of Agriculture. Even with this multiple layer system it is important to have an educated understanding of, and conservative respect for the pest control products that are applied in and around your home. In most cases, a person or pet should stay out the treated area until the pest control solution is dry. Our Phoenix pest control and exterminator team will provide you with a detailed service report that states the name of each product used, as well as where it was applied. If you ever have any questions about a specific product we used, please reach out to us so that labels and material data safety sheets can be provided.
What is considered a "green" pest control treatment?

A green or organic pest control treatment is any treatment that uses a naturally occurring, non-synthetically altered or enhanced pesticide. These products are usually botanical, and they have proven to be quite effective overall. However, they do sometimes lack the residual power of synthetic versions that have been created by scientists in laboratories.
What are the most dangerous pests in Arizona?

There are many dangerous pests in Arizona that not only cause painful bites and stings, but also that can pass on dangerous diseases. These pests include scorpions, black widows, brown recluse spider, ticks, fleas, assassin bugs and rodents. The Phoenix pest control exterminator team at Insectek is very knowledgeable and experienced where these pests, and many others indigenous to Arizona are concerned.
Pest Control and Removal Services
Our team works to protect Arizonan homes and businesses from daily nuisances to the most destructive pests, including:
Instant Pest Removal Now!
Receive an instant pest removal and pest control quote now!